Special Offer for our LAGUNA BEACH COMMUNITY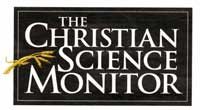 FREE 6 Month Subscription

You will receive
Weekly home delivery of the print edition
Instant access to the tablet and browser edition
100 Years of Award Winning Balanced News!
Improving the WORLD by uncovering GOOD everywhere! 
SIGN UP TODAY!
[No Credit Card needed for this 6-month offer.]
 
* Limit of one free 6-month subscription per Laguna Beach, CA address. Offer available for the first 500 eligible addresses.
We respect your privacy and will only use your e-mail to confirm your free subscription.